CONNECTING PEOPLE WITH NATURE IS OUR BUSINESS AND OUR INSPIRATION
The Wild Connect Advantage: Experience, Expertise, and Industry Connections
At Wild Connect, we have a team of dedicated professionals with years of experience in conservation, technology, policymaking, and public engagement. We are proud of our history of delivering successful projects, and we continue to leverage our expertise to provide cutting-edge services to our clients.
Our strong relationships with government bodies, NGOs, and industry leaders allow us to navigate the system and provide tailor-made solutions that meet the individual needs of our clients. With Wild Connect, you can be confident that you're working with a team that has the skills, knowledge, and connections to get the job done right.
Mission Statement
We are deeply committed to sharing our story and the tools we use, to help create balance on Earth and in human hearts through nature-connection.
Let's come together in the pursuit of a 'wilder Earth'.
Manifesto
Around the world countless wild heartbeats are being stilled in a great dying of extinction; in this collapse of Earth's natural beauty, we believe that our own wild heartbeat will not be spared. At Wild Connect, we will confront the void that separates us from nature and fill it with heartfelt, health-giving and gainful connections with the natural world.
Our values
We come from different nations but are united by our values – caring, brave, curious, creative, inclusive, vibrant, humorous, committed, soulful, ethical, principled, compassionate, kind and empathic. We are a company who will always strive to deliver at the highest quality and to be transparent in all our dealings – amongst ourselves and with our followers and clients.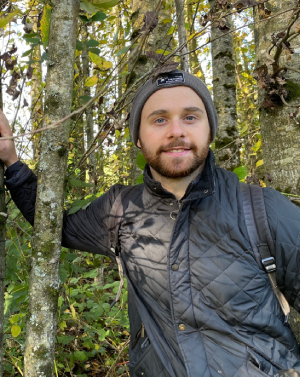 David Todd-Jones
David is the technical lead on the Biophone project, leveraging his background in biology, business management, and electrical engineering to use technology for conservation and science. He has volunteered with several conservation charities and has experience with field work under various conditions. Additionally, he has worked with William Todd-Jones on various film and TV projects, as well as on an environmental art piece displayed at COP19.